We at the Van der Valk Hotel Düsseldorf see it as our task to protect the environment and to work sustainable without dispensing comfort for our guests.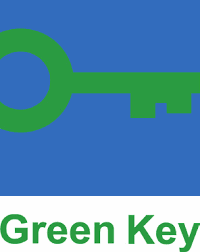 Since the beginning of 2013, we are the proud owner of the "green key", which stands for sustainability in the hotel industry. This eco-label was re-audited in 2022 and we meet 100% of the minimum requirements and already 60% of the optional criteria.
With the help of 95% LED lighting, we save energy and thus ensure a 50% reduction of CO2 emissions.
We work with a heat recovery system that uses for example the exhaust heat from our cold stores and air conditioning as pre-heating for our heating system.
We have our own CHP (combined heat and power unit) to generate electricity and heat. Compared to conventional electricity and heat generation, a CHP is much more environmentally friendly and contributes to the reduction of CO2 emission.
The roof of the hotel is planted with moss so less heat can escape. In addition, when the outside temperature is higher, this enables water to condense and has a cooling effect.
We have our own photovoltaic system which generates about 10% of the annual average electricity consumption.
The tap water is purified into drinking water and filled into glass bottles, thus reducing transport routes.
80% of our restaurant products are sourced from local suppliers, e.g. we get 90% of our baked goods from the regional bakery "Schüren", which has already won several sustainability awards.
The hotel has its own 8 charging stations for e-cars.
Our guests, staying longer than one night, can choose for a green choice (no room cleaning) or orange choice (guests receive a bag with fresh towels and guest supplies).