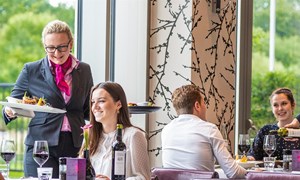 In our cozy Italian Brasserie Max, we offer lunch and snacks for in between. The kitchen is daily opened from 10:00 to 17:00 clock.
Very good and friendly staff, the service really good. I will recommend this place.

I am very pleased with everything. Although a big place it feels cosy and nice, spacious and bright. The only thing I would like to suggest: we came by with the tram 701 and I missed a sign which direction to go to your hotel, it took us a little time to find the right direction. If it would be possible to install a sign near the tram where to go, it would be helpfull.